On the basis of my prolonged experience I have come across to know that the dwellers are suffering innumerable hardships, despite the home was fully constructed according to the norms prescribed in vastu.
I have noticed that the ratio of ill-effects being suffered by dwellers is relatively quite exorbitant as compared to slight discrepancies in a home. It is insignificant to analyse the prosperity and sufferings of the dwellers on the basis of the principle of Vastu. Sometimes it is observed that the person inadvertently get implicated in evolving Vastudosh by ensuring new construction. Homes being constructed to these places are obsessed adn thereby, termed as 'obsessed Vastu'. It is strange to hold discussion in view of the existence of souls, but their dominion cannot be ignored, even today in this scientific era. Many a time we experience their existence in a minute form. Such circumstances are mainly associated to tracts. Incase, if home had however, been constructed on such tracts, then these invisible minute forces begin to effect the dweller. Sometimes, I have also noticed that the negative force never  shows its effect from the ground level, but no sooner does a building is constructed on it, such unwanted negative minute forces use to penetrate due to certain untoward occurrences.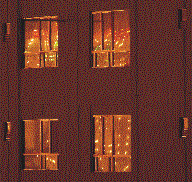 This is a eight floor building after being fully constructed got entangled into certain controversies. As a result, no one ever approached to reside in it, after a prolonged period of twelve years. Being located at the heart of the U.P. Capital, the building is still abandoned.
History of Tract: It is our humble request to the readers that they should minutely carry out the process of investigating the sanctity of tracts being purchased for the purpose of home, Industrial unit or commercial point. Atleast, the purchaser should acquire thorough information for the past  200 years of the tract. However, if it is difficult, then a history of a minimum ten decades regarding the aforesaid tract should essentially be obtained. It is to be confirmed that, earlier  there  would have been no cremating center or graveyard on that tract. Besides, a place of worship, being earlier situated however, suppressed beneath the tract, due to earthquake or any other natural calamities, seems to be detrimental. Purchase of land or tract, where massive toll in a large scale occurred due to certain accidents, should also be avoided. It is also cautioned that the task for construction of building should not be accomplished on a inhabited area of an old temple, which has presently turned into ruins. Moreover, homes should not even be built there. One more relevant perspective is that we should seriously ponder over the history of the tract/land specifically where river are being flowing and earlier remain a surface for rivulets and canals, while purchasing, it, as the matter of fact vulnerability of obsessed Vastu is more at such places.